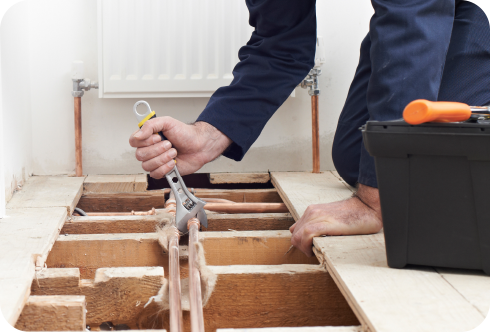 If you have a temperamental heating system, have hot water in the header tank, if it makes noises, you have cold radiators, or need to continually bleed them then our experts can help.
It doesn't necessarily mean a whole new system is required, there are many reasons for any central heating system to degrade and we will advise on the best way to get your heating back to its maximum potential quickly, for a no obligation quotation please contact us.
Over time some heating systems may experience poor circulation resulting in lukewarm radiators, poor hot water, increased noise and sludge build up.
The cost of 'power flushing' starts from £350 plus VAT (Please note that power flushes will not remove blockages) depending on the type of system you own.
For a no obligation estimate please contact us or call 07831 107 315 and let us know the type of system you own, the age (estimate) and number of radiators.
Octoplumb are specialists in providing underfloor heating for the home and the benefits for householders are many.
Far more cost efficient than conventional radiators, which heat the top of the room first, underfloor heating operates at lower temperatures distributing heat up in a uniform way to create a warm cosy environment that prevents cold spots, creates space and adds immediate significant value to your home.
Ground source heat pumps (GSHP's) can generate four kilowatts of energy for every single kilowatt of electricity used.
For every single kilowatt of electricity used to power the ground source heat pumps, this system could generate four kilowatts or more in energy for your home. GSHP's use the latent heat absorbed by the ground that is radiated by the sun daily, no matter what the weather is doing above ground. Underground temperature remains constant, at around 12 degrees, and provides a reliable continual source of warm water which, harnessed with a glycol based GSHP system, gives a constant feed of hot water and heating into a property. The energy required to increase the water temperature to heat your home is less than conventional heating systems and GSHP's are ideal for underfloor heating as well as the more traditional radiator systems.
GSHP's are very efficient ways of heating your home and are in excess of 300% efficient. There are also more grants, feed-in tariffs and cash backs available for GSHP's from various sources as it is a well-established form of heating your home and a great long-term investment. There are limitations where GSHP's can be used, the type of ground on which your house is sited, and the space required for the collectors can sometimes be a problem.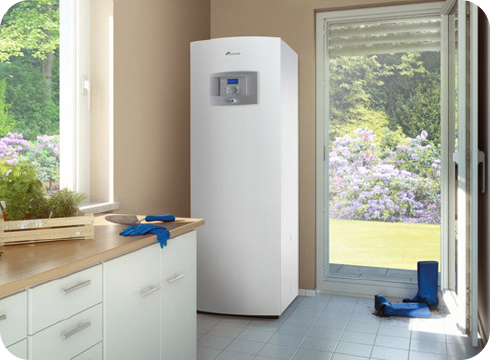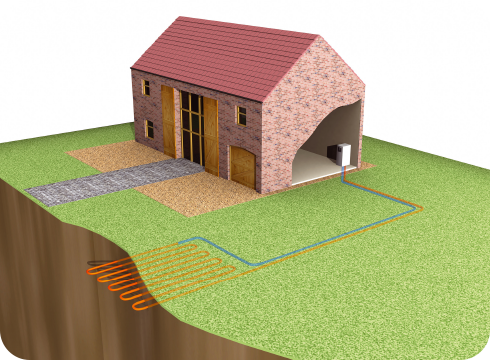 Air to Air Source Heat Pumps
Air Source heat pumps have been used in Scandinavian countries for over twenty years as they ar e an incredibly efficient way of using the outside temperature to give heating and cooling within a building. They are often likened to air conditioning units due to their similar looks, but are in fact far superior due to their increased efficiency and ability to perform both heating and cooling functions.
An air to air heat pump is an all-in-one heating and cooling system that is designed to provide year-round comfort. The Greensource Air to Air Heat Pump converts the energy from the air outside into heat and then circulates warm air internally to provide a comfortable temperature inside the home.
As an extra benefit, Greensource Air to Air Heat Pumps can also operate as an air cooler and purifier using Plasmacluster Ion-technology
Cost effective, low maintenance and aesthetically pleasing, Air to Air heat pumps can heat or cool up to 120 square metres allowing for many applications; open plan areas for business, classrooms, places of worship, loft and basement conversions or house extensions in
fact any open areas which require heating or cooling. The units also act as air purifiers and particulate filters using "Cluster Ion Technology", they don't dry out the air as air conditioning units do so are excellent for allergy sufferers and contact lens wearers alike!
Most installations are completed within a day or so and a 6Kw unit costs around 4 pence per hour to run (on maximum output). They are up to 500% efficient which is why they have become an excellent option for those wanting to reduce the pressure on their existing boiler and household bills.
Air to Water heat pumps work in much the same way as air to air, they use the latent heat in the air to generate heat, but have one big difference.
An Air to Water unit provides a plentiful supply of hot water thanks to a built-in hot water cylinder which makes it an ideal replacement for an old and inefficient boiler. They use a small amount of electricity and are in excess of 300% efficient which means for every kilowatt of electricity that is used the unit will generate at least three units of heating. These units are designed to replace traditional gas and oil boilers based on the principle that electricity will remain more stable and therefore cheaper in the long term.
Air to Water heat pumps, when combined with PhotoVoltaic electricity, can generate the energy required for operation as well as supplying the base load needs.
Due to air to water units only needing electricity for operation, it makes it an ideal choice when refurbishing an existing property, replacing oil fired boiler replacements, new builds or areas with restricted mains gas. This is the ideal opportunity to upgrade to a proven, dependable and cost effective option.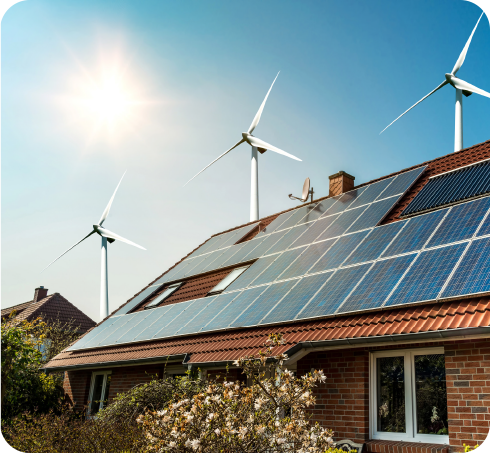 There are two main ways of harnessing the suns energy for use in the home.
The first is solar thermal, which uses the sun's energy to heat water which compliments a traditional boiler and helps to reduce fuel bills by as much as 70% as well as helping the environment. Solar thermal hot water heating has been used in other European countries for any years but is still seen as being new in the UK. It has been used to great success all over the UK and is now regularly seen on our roof tops especially as all new-build properties must now have some form of renewable energy thanks to the Government's recent "code for sustainable homes".
Solar thermal energy is the best known and most popular form of domestic renewable energy. The sun's energy is collected by flat plate collectors or evacuated tubes (usually on the roof) which are orientated towards the sun in order to warm the property's water. Inside the panels is a glycol mix which acts as anti-freeze in order to prevent freezing in cold periods whilst preventing it from boiling in especially hot spells. This hot fluid is then passed through a twin-coil cylinder (which looks very similar to traditional hot water cylinders, except for an additional flow and return that passes through the cylinder which helps to transfer the free heat from the sun into the cylinder which would otherwise just be heated by the boiler .
Manufacturers state that an average property should receive around 60-70% of the properties total hot water demands from solar thermal systems. Contrary to common belief, a lot of solar energy can still be gained from solar collectors even on cloudy days.
Interested in our services and need more info?
Only use a GAS SAFE REGISTERED ENGINEER to FIT, FIX and SERVICE your gas appliances. Click here for more info.
We are a Worcester Accredited Installer
We can offer up to 12 year guarantees on selected Worcester Bosch boilers*